Overview
Every second counts in an emergency. That's why we have SkyHealth, a state-of-the-art emergency helicopter service that greatly reduces the time a critically ill or injured patient spends outside of the acute care environment. Flying over traffic at 135 miles an hour, the SkyHealth helicopter offers the fastest and safest route to and from any medical facility in the northeast region.
On average, it takes 10 minutes from the time a call is received until lift-off. Though flight times vary depending on distance and weather, the helicopter can cover approximately 25 miles in about 12 minutes. The same route could take an ambulance an hour or more. Imagine what a difference those precious minutes can make.
Where we fly
SkyHealth, a joint venture between Northwell Health and Yale New Haven Health, is available for any hospital in the Northeast region to make transfers into any hospital of choice within New York or Connecticut. Destinations in additional states are available if the sending facility is from New York or Connecticut. The aircraft is capable of flying 150 miles nonstop. A higher mileage range is possible based on refueling and weather.
SkyHealth helipads are located at Northwell facilities designated and credentialed as trauma centers, including: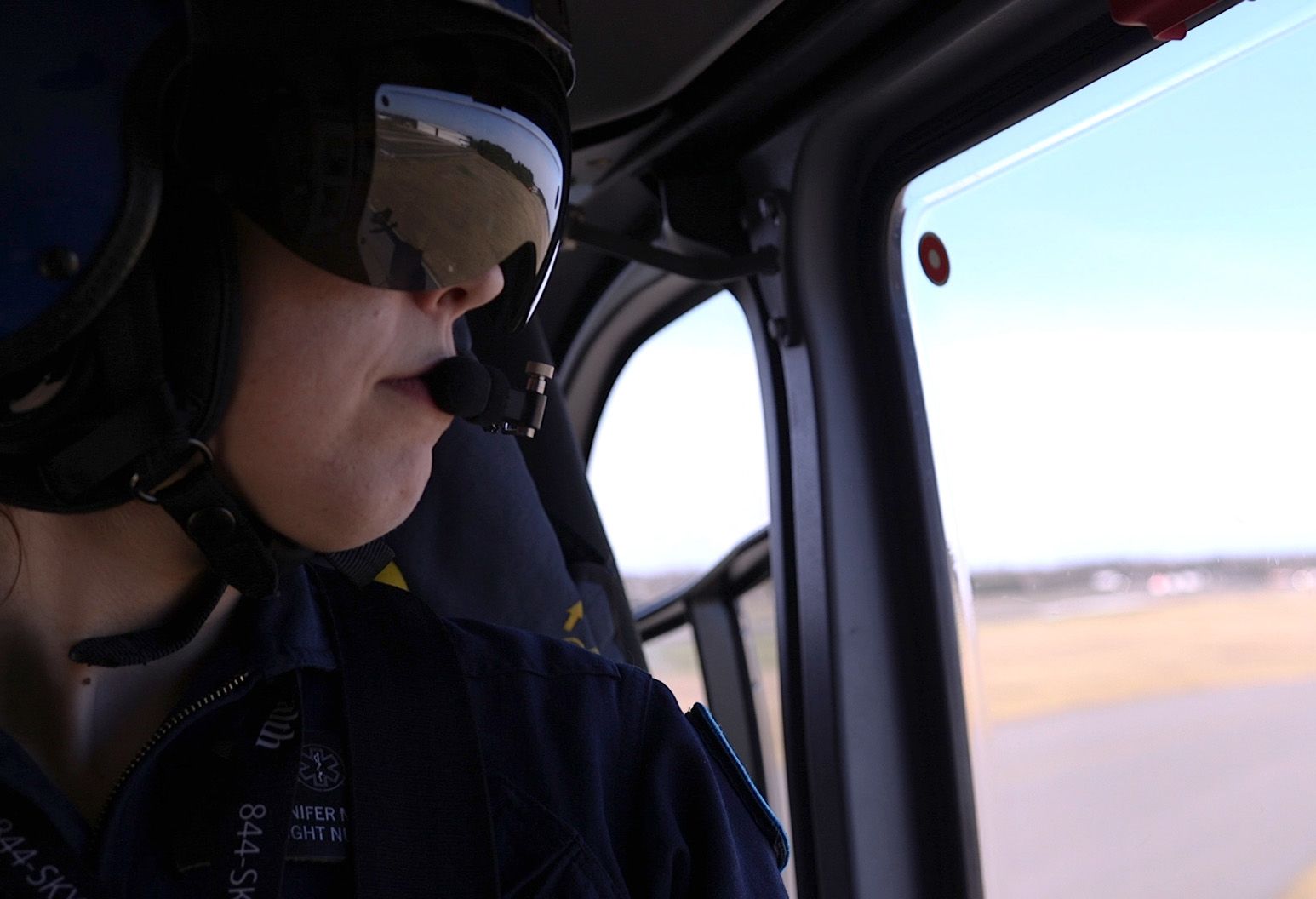 Being a flight nurse means dealing with emergencies at 2,000 feet in the air.
Equipment and staff
As with our ground-based CEMS services, you'll never have a lapse in care while traveling via SkyHealth. The helicopter is equipped with the same sophisticated critical care technology available in the most innovative of emergency rooms and intensive care units, including:
Mechanical ventilators
Cardiac and invasive channel monitoring
Cardiac defibrillator
Transcutaneous and venous pacemakers
Advanced isolette transportation system for infants and newborns
Fetal heart monitoring for single or twin fetuses
Intra-aortic balloon pump
Video laryngoscopy
Oxygen saturation, capnography, invasive and noninvasive temperature monitoring
ECMO transportation capabilities
Impella device
The SkyHealth medical flight team—a crew of paramedics and nurses—has the highest level of training in emergency, pre-hospital and critical care disciplines. Dual-credentialed in New York and Connecticut, our team has experience in multiple specialties, from advanced cardiac life support to neonatal care.
Aircraft operated by Med-Trans Corporation FAA 135 certificate # M3XA227H.