100% devoted to the most radiation therapy options for cancer
With access to the widest range of radiation technologies, Northwell doctors are devoted to personalizing your cancer treatment. That means more noninvasive treatments, fewer side effects, shorter treatment sessions—and more ways to beat cancer.
Why choose us
The Department of Radiation Medicine offers a wide range of radiation medicine services for adults and children at locations across Long Island, Manhattan, Staten Island and Westchester. Our safe and effective radiation therapy services are delivered in a supportive and compassionate environment by staff members who are dedicated to making your visit as informative and stress-free as possible. Our full time staff is active in cancer research to advance the field of radiation medicine and in educating the next generation of radiation oncologists and medical physicists.
All the radiation therapy technology options for truly personalized care
Being devoted to beating cancer means we come at the problem from all angles, and we mean that literally. We offer access to every major radiation therapy technology, including noninvasive options like TrueBeam®, Gamma Knife® Icon™, CyberKnife®, proton therapy and more. These innovative treatments use multiple radiation beams that converge precisely at the site of the tumor, so nearby healthy tissue isn't damaged. In fact, we have many specialized treatments that come with fewer side effects and shorter treatment sessions and most even allow you to drive yourself to and from treatment.
With access to the widest range of radiation technologies, Northwell radiation oncologists can truly personalize your care by selecting the most appropriate treatment option for you.
Our team is in your corner
Your care team will be led by one of our experienced, board-certified radiation oncologists. Your radiation therapy team may also include:
Physician assistant or oncology nurse
Radiation therapist
Medical physicist
Social worker
Nutrition expert
Additional support staff
Quality and safety
Quality and safety is critically important to the delivery of radiation therapy. Rest assured that we are leaders in implementing processes that deliver safe, top-notch care through our Smarter Radiation Oncology® program.
Our doctors practice evidence-based medicine, which means that the care we provide is based on proven studies and methods that have been published in respected medical journals. This allows us to provide standardized, yet personalized care at each of our locations.
Our team developed a No Fly Policy, similar to a pre-flight checklist in the airline industry. Our staff follows a specialized process and quality checklist that requires each step to be completed and approved before your treatment can begin.
We use Smart Rounds where our team of radiation oncologists and medical physicists meet daily and review every new patient's treatment plan to make sure there is agreement with the intended course of therapy. This proactive peer review is another way of assuring you receive the safe, quality care.
State-of-the-art technology & treatments
You'll benefit from advanced technologies that deliver targeted radiation therapy with minimal potential side effects. Technologies and treatments include:
View more

View more
Located in Lake Success, we offer the only Gamma Knife Icon on Long Island for the frameless treatment of brain tumors in a single day. Gamma Knife Perfexion is available in Mount Kisco.
Located at Lenox Hill Hospital, TomoTherapy combines state-of-the-art imaging and intensity-modulated radiation therapy for more effective treatment and less risk to healthy tissue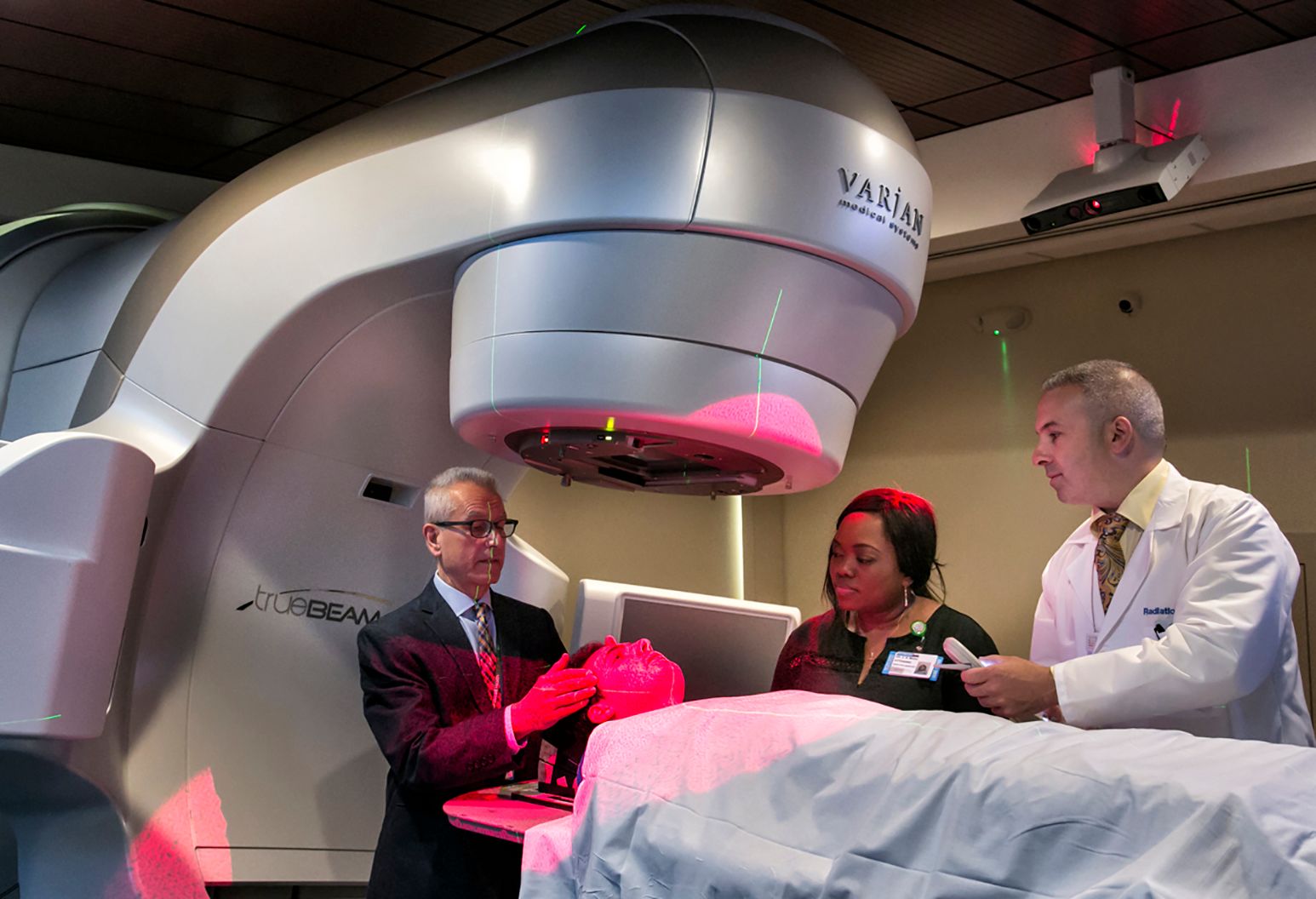 Located at several of our facilities, TrueBeam Radiotherapy System delivers powerful cancer treatment with pinpoint accuracy and precision.
Proton therapy is a type of external-beam radiation therapy that utilizes protons to treat cancer. Your Northwell radiation oncologist will lead your care and will supervise your proton therapy treatments in Somerset, New Jersey.
Located in Smithtown and East Setauket, CyberKnife Radiosurgery System treats cancerous and non-cancerous tumors and other targets, precisely delivering radiation anywhere in the body.
Offered at several of our locations, brachytherapy places radioactive material inside the body very close to the tumor, allowing for a higher dose of radiation to destroy cancer cells.
Locations
Radiation oncology services are provided at convenient locations throughout the greater New York metropolitan area.
Seeds of progress to treat prostate cancer
Radioactive seed therapy returns 80-year-old Larry Fenster to his normal life after prostate cancer. Watch his story.
Radiation Medicine Gong Ceremony: A Celebration of New Beginnings
Northwell Health is New York state's largest healthcare provider, with 23 hospitals, 650 outpatient facilities and nearly 15,000 affiliated physicians. We're here to set the standard of care for our communities—and make the 2 million-plus patients we treat every year not only healthier, but happier…
After being diagnosed with head and neck cancer, Willard was afraid he would never speak again, let alone sing. Willard has been a playwright and theater actor for over 50 years. When Dr. Sewit Teckie entered his life, everything changed. This is Willard's story. Northwell Health is New York stat…
Seeds of progress to treat prostate cancer
Radiation Medicine Gong Ceremony: A Celebration of New Beginnings
Chairman - Radiation Medicine, Northwell Health,
Deputy Physician in Chief - Northwell Health Cancer Institute,
Specialties:
Radiation Oncology