The right cancer care—right near home
We bring together top-rated cancer specialists, state-of-the-art technology, leading-edge clinical trials and a full range of support programs so you can receive the coordinated care you need, right in your community.
anchor
Our approach
Complex conditions like cancer require careful coordination between your cancer specialists and other physicians involved in your care. Our leading cancer specialists are right in your community and are connected with local cardiologists, endocrinologists, and other experienced specialists so you receive coordinated care for your cancer and any other condition you may have. Our cancer specialists are also connected to Northwell Health hospitals, imaging centers and laboratories, so your care team has your medical information at their fingertips.
Our board-certified, fellowship-trained and subspecialized cancer specialists—including medical oncologists, radiation oncologists, surgeons, pathologists, radiologists—as well as oncology nurses, social workers, nutritionists and cancer genetic counselors, work as part of a multidisciplinary team to diagnose and treat your cancer. Together, we develop an individualized treatment plan to achieve the best possible outcome for you.
Combining innovative technology and expertise
We offer leading-edge technology, as well as the brains behind the technology. Specializing in the full range of state-of-the-art radiation therapy and minimally invasive surgical techniques, including robotic surgery, our highly trained radiation oncologists and surgeons have every imaginable option to choose from. Yet, technology is only as effective as the expertise of the clinicians who employ it. Our experts have years of experience, training and knowledge to select the most appropriate treatment option for you so you have the best chance at a successful outcome.
We are helping to discover innovative new cancer therapies and treatments
You also have access to clinical trials, including studies initiated by our physicians and those offered by organizations affiliated with the National Cancer Institute. We have been a leader in cancer clinical trials for over 30 years and have over 150 active cancer clinical trials at any given time.
360 degrees of cancer support
When you're being treated for cancer at Northwell Health, you gain access to a full range of specialized services and programs to support you before, during and after your cancer diagnosis, including:
Educational events
Post-treatment program
Specialized fertility, rehab and cardio-oncology programs
Nationally recognized for excellence in cancer care
Northwell Health hospitals and cancer programs are nationally accredited by leading organizations in cancer care, including:
Our accreditations mean we have voluntarily gone through a rigorous peer review process to ensure we meet national accepted standards, have well-qualified staff to diagnose and treat your cancer and our technology meets or exceeds guidelines so you receive the safest, highest quality care.
Richard Barakat, MD, MBA, physician-in-chief and director of the Northwell Health Cancer Institute, has put together an exceptional leadership team to enable Northwell to expand cancer services and develop specialized cancer programs to meet the needs of patients throughout the region.
Learn more
Using the latest immunotherapy, chemotherapy, targeted therapy and clinical trials, we treat both common and rare forms of cancer.
We offer experienced specialists and state-of-the-art radiation therapy technology to help you achieve the best possible outcome.
Our renowned and specialized surgeons treat a wide range of cancers using the latest minimally invasive techniques.
The latest news from the Cancer Institute
View more articles

View more articles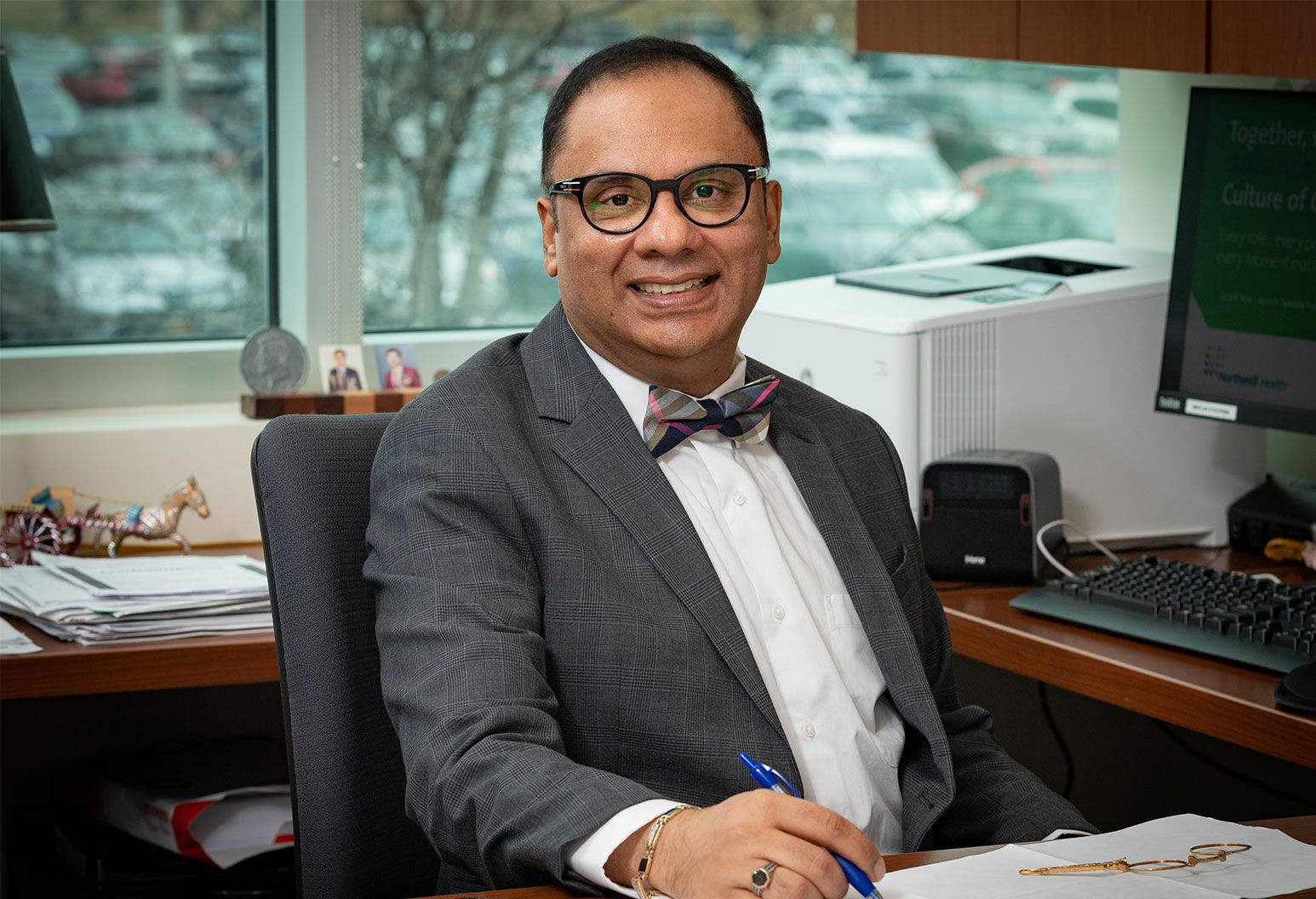 Wasif Saif, MD, penned this article for Targeted Oncology.
Dr. Jane Carleton, associate chief of Hematology/Oncology at the Northwell Health Cancer Institute, tells the Queens Chronicle the latest data tied to breast cancer.
The Institute of Cancer Research at The Feinstein Institutes for Medical Research has been awarded a five-year, $4.6 million National Cancer Institute Community Oncology Research Program grant.
Northwell Health Cancer Institute locations at Monter Cancer Center, Northwell Cancer Institute at Huntington, Imbert Cancer Center in Bay Shore and Northwell Health Cancer Institute at Phelps Hospital in Sleepy Hollow have each received certification from the Quality Oncology Practice Initiative P…